Yes, we Accept: PAYPAL,
Venmo & SQUARE
We are always interested in purchasing, whether you have a single item or an entire collection for sale.
© 2021 Mt. Gothic Tomes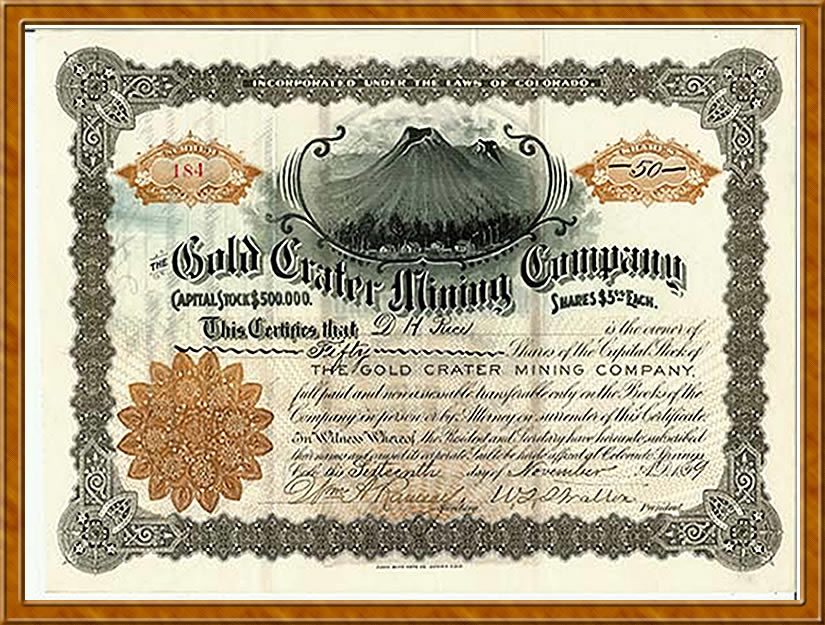 Original Photographs
Page 15
STATION OF THE DENVER & RIO GRANDE RAILROAD AT WAGON WHEEL GAP, COLORADO, western end of the San Luis Valley, circa 1884.
Original imperial-sized -- 13-1/4 inches in width by 10 inches in height -- albumen photograph on original cream-colored mat (dimensions: 20 inches by 16 inches). This image is unusual as it is not identified as a William Henry Jackson image on the original glass plate. However, it has been identified by a number of reliable sources, including the Western History Department of the Denver Public Library and the Colorado Historical Society, as being an original Jackson photograph. Condition: near fine, as well as excellent tonality with little, if any, fading.
According to Robert A. LeMassena, this is an image of a Denver & Rio Grande 4-4-0 engine, hauling a daily set of cars to Creede. In 1886, the old wooden-truss bridge across the Gunnison River, at Roubideau, was replaced with a new steel-span 370-feet in length.
D&RG train stopped at the Wagon Wheel Gap Station while passengers pose for Jackson photograph.
64. PHANTOM ROCKS
W. H. JACKSON & CO. PHOTO., DENVER, COLORADO
Circa 1881
Original imperial-sized albumen photograph: 10 inches across by 13-1/2 inches in height. Mounted on original cream-colored mat: 16 inches across by 20 inches in height. Photograph exhibits near fine tones, with excellent detail and great clarity. Mat board has one repaired split in top margin, high above original photograph, closed-ended, approximately 3 inches in length.
Conejos County, Colorado. Near Phantom Curve, along The Denver & Rio Grande Railroad.
Jackson signature and name of photographic plate originally marked at bottom of photograph. Superb detail.
More Jackson photographs:
WILLIAM HENRY JACKSON Photographs and Books, Page 1
WILLIAM HENRY JACKSON Photographs and Books, Page 2
WILLIAM HENRY JACKSON Photographs and Books, Page 3
WILLIAM HENRY JACKSON Photographs and Books, Page 4
WILLIAM HENRY JACKSON Photographs and Books, Page 5
WILLIAM HENRY JACKSON Photographs and Books, Page 6
WILLIAM HENRY JACKSON Photographs and Books, Page 7
WILLIAM HENRY JACKSON Photographs and Books, Page 8
WILLIAM HENRY JACKSON Photographs and Books, Page 9
WILLIAM HENRY JACKSON Photographs and Books, Page 10
WILLIAM HENRY JACKSON Photographs and Books, Page 11
WILLIAM HENRY JACKSON Photographs and Books, Page 12
WILLIAM HENRY JACKSON Photographs and Books, Page 13
WILLIAM HENRY JACKSON Photographs and Books, Page 14
WILLIAM HENRY JACKSON Photographs and Books, Page 15
WILLIAM HENRY JACKSON Photographs and Books, Page 16