Yes, we Accept: PAYPAL,
Venmo & SQUARE
We are always interested in purchasing, whether you have a single item or an entire collection for sale.
© 2024 Mt. Gothic Tomes
LAKE CITY, HINSDALE COUNTY, COLORADO, 1895
Resources and Mineral Wealth of Hinsdale County, Colorado. Past, Present and Future. L. A. Vinton & Co., Lake City, Colorado. Original black-printed tan wrappers; 40 pages, with illustrations and advertisements. "This booklet is issued for the purpose of advancing and perpetuating the mining industry of Hinsdale County ... It is respectfully dedicated to thoughtful and intelligent readers wherever they may be found." Information on the Galena District, Lake District, and Lake City. Photographic illustrations. Exceedingly scarce. Very good condition. Previous owner's name penned on front cover and on title page.
WILLIAMS' TOURISTS' GUIDE AND MAP OF THE SAN JUAN MINES OF COLORADO
1877
WILLIAMS NEW MAP OF COLORADO, KANSAS AND ROUTES OF TRAVEL TO THE HEALTH RESORTS AND PLEASURE OF THE ROCKY MOUNTAINS.
Map dimensions: 38 inches in length by 24 inches in height.
Compiled and drawn by H. L. Thayer, Denver, Colorado
American Photo-Lithographic Co., NY (Osborne's Process)
Entered according to Act of Congress in the year 1877 by H. T. Williams, with Librarian of Congress, Washington, D.C.
Map accompanied by original 48-page publication, also published in 1877. Front cover and plates printed by the Lith. of Heppenheimer & Maurer, New York. Four plates of San Juan Mountains scenes. Covers are chipped. Interior pages are bright and clean, yet delicate. Spine conservation-reinforced with neutral pH and acid-free materials.
Although this map has been reinforced on the back of each hinge with neutral pH and acid-free materials, it is recommended that it be framed in a museum-mount for further stabilization and preservation.
THE SILVERTON, OPHIR & SAN MIGUEL TOLL-ROAD COMPANY OF COLORADO
Issued January 30, 1884, uncancelled. Near fine condition; usual folds. Signed by S.D. Whittenmore as president; John P. Newell as secretary. Incorporated in Colorado, 1882. This certificate was issued on a toll-road from Silverton winding over the mountains into what would be San Miguel County and the Telluride, Colorado area. Corporate seal affixed in Silverton, Colorado.
Price: $2,000.00
THE OURAY GOLD MINING COMPANY, LIMITED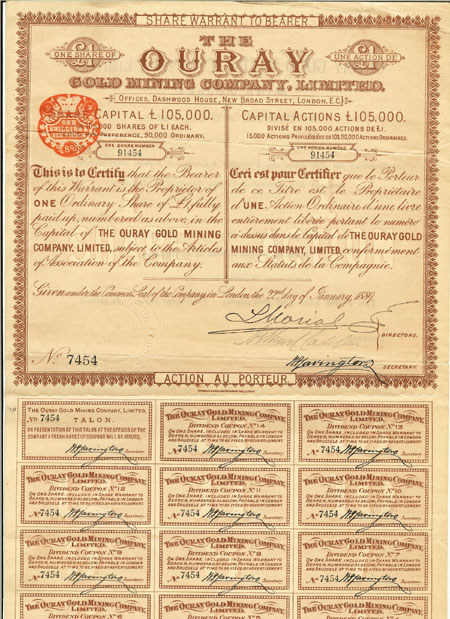 Dividend certificate issued January 22, 1889, uncancelled. Ouray, Colorado. With 12 coupons attached; near fine condition
ROCKY MOUNTAIN GOLD MINING COMPANY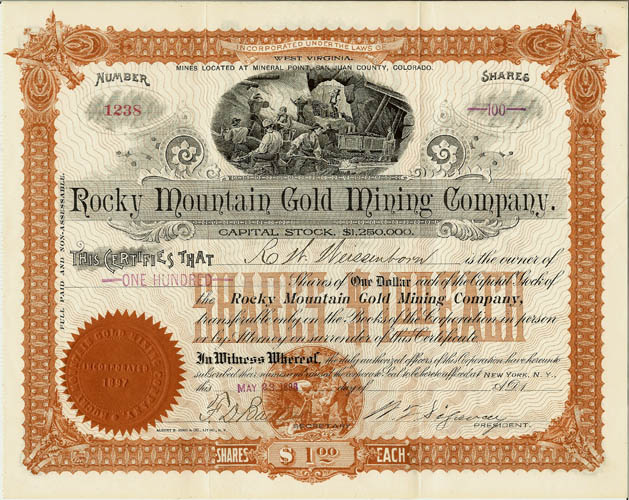 Issued May 23, 1898, uncancelled. Printed on certificate: "Mines Located at Mineral Point, San Juan County, Colorado." Near fine condition.
THE BANDORA MINING AND MILLING COMPANY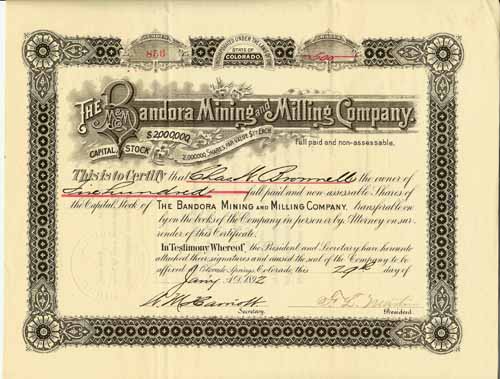 Issued January 29, 1892, uncancelled. Mining property near Silverton, Colorado. Near fine condition
TINY HINSDALE OF THE SILVERY SAN JUAN
By Carolyn and Clarence Wright. Big Mountain Press: Denver, Colorado, 1964, first edition. Original green cloth binding; black print on spine; 196 pages; illustrated. Fine in near fine dust jacket. "Hinsdale County of Colorado is the smallest county in the nation in population [1964]. Its smallness seems to enhance its most exciting history -- a history of a rich mining area with its many ups and downs, its booms and recessions, and its succession of various activities. This is not just the story of another mining town in the West, for Hinsdale and Lake City had a very special history, indeed ...."