Yes, we Accept: PAYPAL,
Venmo & SQUARE
We are always interested in purchasing, whether you have a single item or an entire collection for sale.
© 2022 Mt. Gothic Tomes
VERNER Z. REED
October 13, 1863 - April 21, 1919

A unique and exceedingly historical association copy!
By Verner Z. Reed. Illustrated by L. Maynard Dixon. Continental Publishing Co., New York and London, 1897, first edition. Original illustrated cloth binding; 250 pages.
SOLD
Inscription to W. S. Stratton, Cripple Creek's most enigmatic gold baron, by Verner Z. Reed in his book, TALES OF THE SUN-LAND. Also, one of L. Maynard Dixon first illustrated books.

Even more intriguing, the existence of this book contradicts of the story told on Page 212 by historian Marshall Sprague in his book, MONEY MOUNTAIN (Boston: Little, Brown & Co., 1953). Sprague reported that after W. S. Stratton had read this specific volume he burned it in the ash pit behind his house. Evidently the tale is apocryphal as this book is in near fine condition, both inside and out, and enhanced by a superb association inscription penned by Verner Reed. Provenance for this book is documented; its previous owner lived in California.

This book was dedicated to Mary Dean Reed, wife of the author. This original 1st edition includes a document issued to Verner Z. Reed, but signed by his wife, Mary Dean Reed, on the reverse, after Verner Reed's death.
THE BLACK DIAMOND GOLD MINING COMPANY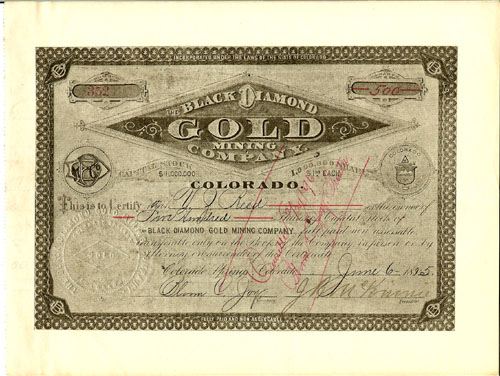 Issued June 6, 1895; cancelled. Issued to Verner Z. Reed for 500 shares; signed by Reed on the back. Signed by J.R. McKinnie as president. Early Cripple Creek gold mine absorbed by the Portland Gold Mining Company
By Verner Z. Reed. Illustrated by Charles Craig and L. Maynard Dixon. Continental Publishing Company, New York and London, 1897, first edition. Original illustrated cloth binding; 229 pages. Very good plus condition
| | |
| --- | --- |
| THE ROSE NICOL GOLD MINING COMPANY. Issued February 12, 1900; uncancelled. Signed by Verner Z. Reed, as president; O.H. Shoup, as secretary. Incorporated in Colorado. Printed on certificate: "Cripple Creek Mining District" | |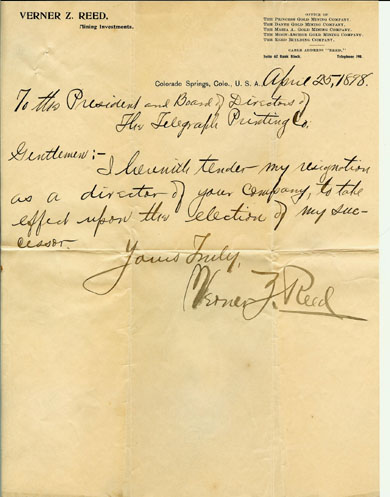 ADOBELAND STORIES. By Verner Z. Reed. Boston: Richard G. Badger & Co., 1899. Cover design by Marion L. Peabody. Original illustrated cloth binding; 179 pages; first edition.

SOLD
Oliver H. Shoup served as secretary in the Reed Investment Company. Shoup continued as a business partner with Verner Z. Reed through his various enterprises, including real estate, Cripple Creek mining, Colorado Springs and Denver banking, as well as Salt Creek oil. Oliver Shoup was elected Governor of Colorado in 1918 and served two terms.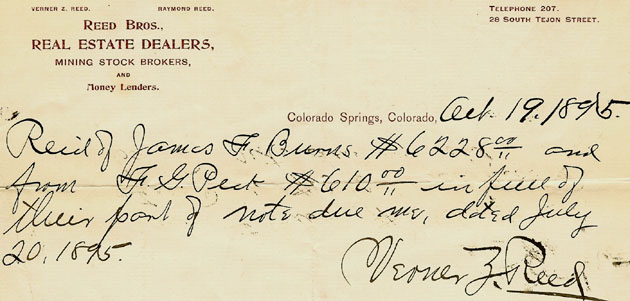 SOUL OF PARIS AND OTHER ESSAYS

By Verner Z. Reed. Illustrated by Ernest C. Piexotto. New York: John Lane Company; London: John Lane - The Bodley Head; Toronto: Bell & Cockburn, 1913, first edition. Original gold printed green cloth binding; 178 pages, complete with 9 illustrations
Condition: very good; some edgewear; bumped corners; occasional light soiling. Ernest P. Marsh and Verner Z. Reed served as labor mediators for President Woodrow Wilson and his special PRESIDENT'S MEDIATION COMMISSION*, 1917 - 1918.
*[The President's Mediation Commission represented a partial federal response to two aspects of wartime labor policy: 1) the spreading wave of strikes which interfered with the production of goods deemed vital to the war effort; and, 2) the growth of labor radicalism associated with the Industrial Workers of the World (IWW), which precipitated widespread state and local repression of labor's rights. On the urging of A.F. of L. President Samuel Gompers and of Secretary of Labor William B. Wilson, the Commission was appointed by President Woodrow Wilson on September 19, 1917. The Commission consisted of two representatives of management, two labor officials and Chairman William Wilson. Most important in establishing the guidelines on which the Commission operated was Felix Frankfurter, appointed as Commission secretary. These included the promotion of A.F. of L.-style trade unions and industrial democracy and the elimination of "subversive" IWW locals. Among the areas investigated by the Commission were the copper mining areas of Arizona and Montana, the lumber industry of the Pacific Northwest, telephone operators in San Francisco and packinghouse workers in Chicago. The Commission's findings were subsequently published as a special bulletin by the Dept. of Labor.]
THE MARGERY GOLD MINING COMPANY. Issued September 23, 1899; uncancelled. Mines in the Cripple Creek Mining District. Condition: good plus; several folds.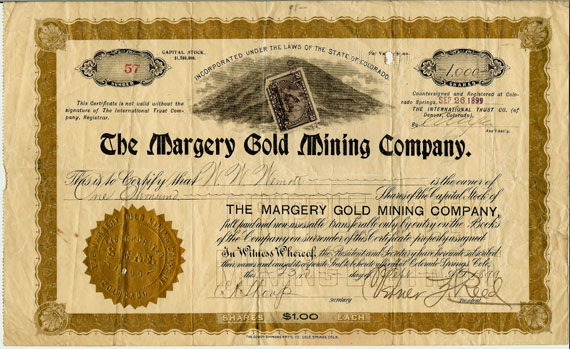 More Cripple Creek mining stock certificates on the following web pages:
Cripple Creek Mining Stock certificates, Page 1
Cripple Creek Mining Stock Certificates, Page 2
Cripple Creek Mining Stock Certificates, Page 3
Cripple Creek Mining Stock Certificates, Page 4
Cripple Creek Mining Stock Certificates, Page 5
Cripple Creek Mining Stock Certificates, Page 6
Cripple Creek Mining Stock Certificates, Page 7
Cripple Creek Mining Stock Certificates, Page 8
Cripple Creek Mining Stock Certificates, Page 9
Cripple Creek Mining Stock Certificates, Page 10
Cripple Creek Mining Stock Certificates, Page 11
Cripple Creek Mining Stock Certificates, Page 12
Cripple Creek Mining Stock Certificates, Page 13
Cripple Creek Mining Stock Certificates, Page 14
Cripple Creek Mining Stock Certificates, Page 15
Cripple Creek Mining Stock Certificates, Page 16