Yes, we Accept: PAYPAL,
Venmo & SQUARE
We are always interested in purchasing, whether you have a single item or an entire collection for sale.
© 2022 Mt. Gothic Tomes
THE CRIPPLE CREEK PLACER MINING COMPANY
Issued August 1, 1892, uncancelled. Good plus condition. Early placer operation in the Cripple Creek Gold Mining District (Re: Cross and Penrose report for the USGS)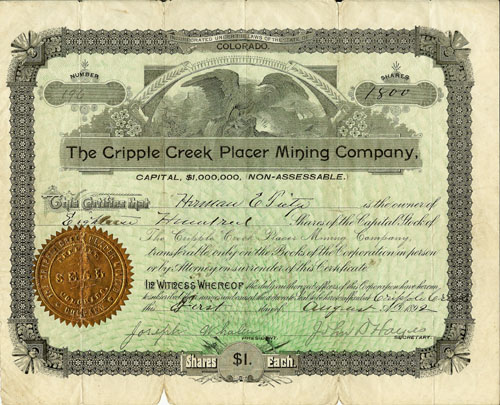 THE MOON - ANCHOR GOLD MINING COMPANY
Certificate #6974, issued to F.G. Broege, August 17, 1910, uncancelled. Signed by J.R. McKinnie, as president. Mines in the Cripple Creek Gold Mining District, Teller County, Colorado. Condition: near fine; certificate is NOT cropped nor trimmed (certificate is oversized and did not fit on scanner bed); usual two folds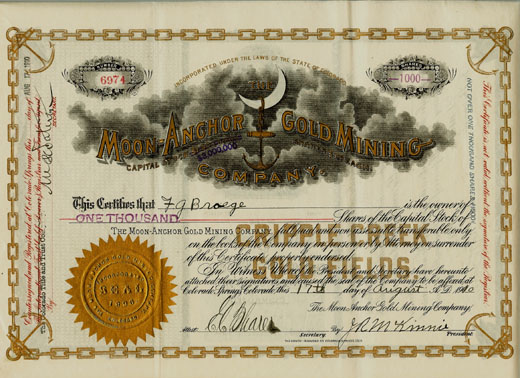 THE PAPPOOSE GOLD MINING COMPANY
Issued October 7, 1902, uncancelled. The Denver Litho Co., Denver, Colorado. Unique papoose chromolithograph vignette (possibly from a W. H. Jackson photo). Near fine condition, usual folds
THE PIKE'S PEAK PLACER MINING AND MILLING CO.
Issued March 8, 1894, uncancelled. Corporate seal affixed in Fremont (Cripple Creek), Colorado. Rare Cripple Creek placer issue (detailed in the USGS Cross and Penrose report). Near fine condition, usual folds
sold
THE PORTLAND GOLD MINING COMPANY
Issued July 16, 1895, cancelled. Signed by two of the founders of the original Portland claim: James F. Burns and James Doyle. Very good condition: light stain on left margin; usual folds. Key certificate for any Cripple Creek collection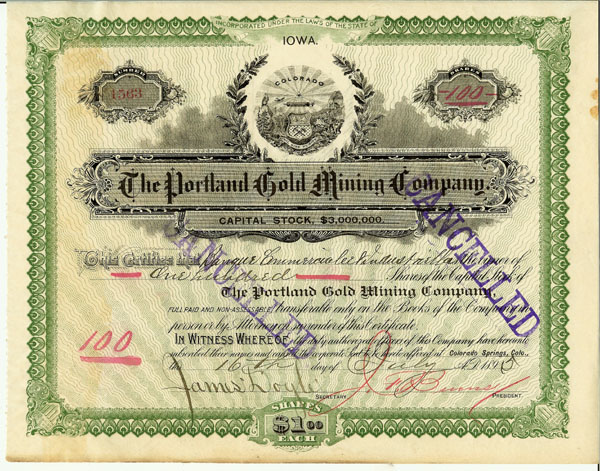 THE PRIMROSE GOLD MINING COMPANY
Issued January 18, 1901, uncancelled. Printed on certificate, "Mines at Cripple Creek." Very good condition: several light stains, and two small holes in lower margin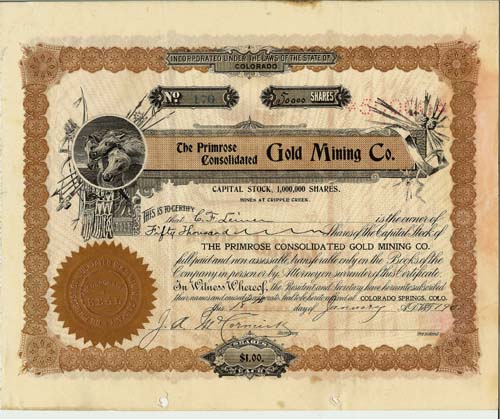 THE PROGRESS GOLD MINING COMPANY
Issued September 25, 1902, uncancelled. Printed on certificate, "Cripple Creek Gold Mining District." Signed by W.H. Crosby as vice president. Very good plus condition, usual folds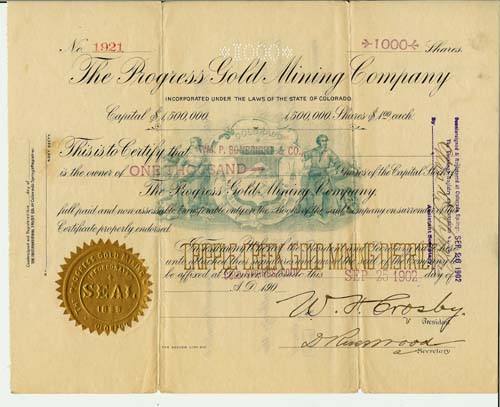 THE QUITO GOLD MINING AND MILLING COMPANY
Issued July 19, 1901, uncancelled. Signed by W.R. Foley, as president and Cripple Creek mine promoter. Signed by S.J. Mattocks, as secretary, and business associate of W.S. Stratton. Fine condition, light folds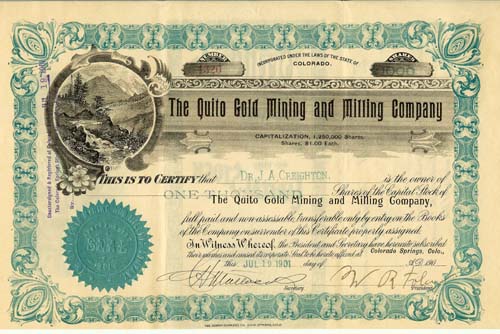 More Cripple Creek mining stock certificates on the following web pages:
Cripple Creek Mining Stock certificates, Page 1
Cripple Creek Mining Stock Certificates, Page 2
Cripple Creek Mining Stock Certificates, Page 3
Cripple Creek Mining Stock Certificates, Page 4
Cripple Creek Mining Stock Certificates, Page 5
Cripple Creek Mining Stock Certificates, Page 6
Cripple Creek Mining Stock Certificates, Page 7
Cripple Creek Mining Stock Certificates, Page 8
Cripple Creek Mining Stock Certificates, Page 9
Cripple Creek Mining Stock Certificates, Page 10
Cripple Creek Mining Stock Certificates, Page 11
Cripple Creek Mining Stock Certificates, Page 12
Cripple Creek Mining Stock Certificates, Page 13
Cripple Creek Mining Stock Certificates, Page 14
Cripple Creek Mining Stock Certificates, Page 15
Cripple Creek Mining Stock Certificates, Page 16