Yes, we Accept: PAYPAL,
Venmo & SQUARE
We are always interested in purchasing, whether you have a single item or an entire collection for sale.
© 2021 Mt. Gothic Tomes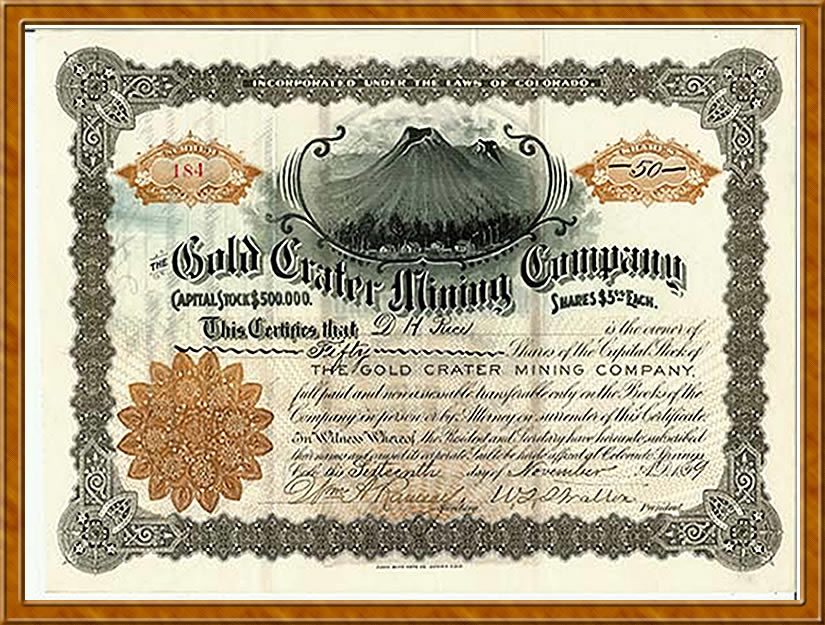 THE CENTENNIAL GOLD MINING COMPANY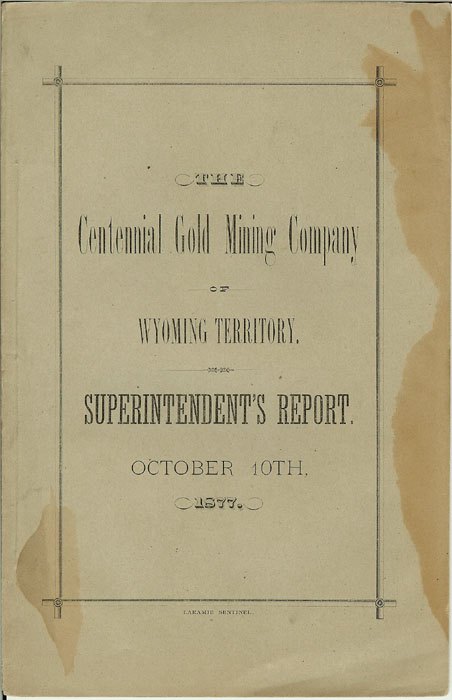 OF WYOMING TERRITORY
SUPERINTENDENT'S REPORT
OCTOBER 10TH 1877. Original printed gray wrappers; 13 pages; light stains to cover edges. Laramie Sentinel, Printers. Stephen W. Downey, President, Laramie City, Wyoming Territory, 1877. N. M. Ambrose, Superintendent. Overall condition: very good plus. Mining property in North Park Region, near head waters of Grand, the North Platte, and Laramie rivers.
Price: $395.00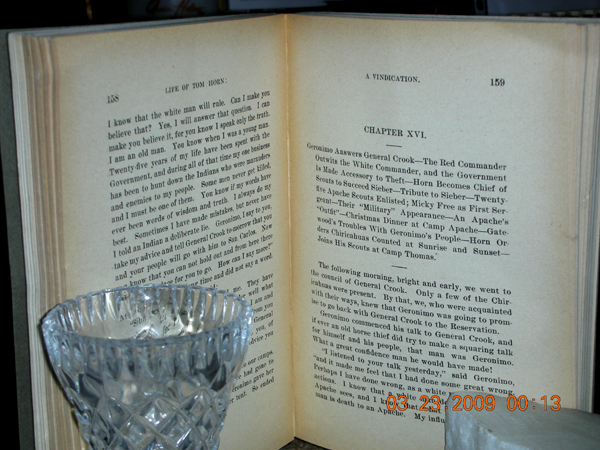 Government Scout and Interpreter, Written by Himself,
Together with His Letters and Statements by His Friends. A Vindication. Thirteen Full Page Illustrations
Published (for John C. Coble) by The Louthan Book Company: Denver, 1904, 1st edition. Original illustrated wrappers; 317 pages. Very good plus condition: slight crease in front cover; pages lightly tanning; binding solid and tight; book clean and bright.
$375.00
Johnson County Cattle War, Wyoming
THE POWDER RIVER LIVE STOCK COMPANY
Stock certificate, issued 1884, uncancelled; two folds, near fine condition. Company had ranges near old Forts Reno and McKinney, Powder River, Johnson County, Wyoming. Incorporated in Colorado. In spring of 1886, this Company had 24,000 head of cattle on the Powder River range. This Company was impacted by the "Johnson County War," where Tom Horn gained his notoriety. George Rex Buckman, a noted Colorado Springs promoter, was secretary of the Company and signed this historical document.
SOLD
FORT LARAMIE AND THE PAGEANT OF THE WEST, 1834 - 1890
By LeRoy R. Hafen and Francis Marion Young. The Arthur H. Clark Company: Glendale, California, 1938, first edition. Original blue cloth binding with gold print on spine; 429 pages, complete with all illustrations and maps. Fort Laramie as a Fur-Trading Post; and, as Military Post
First Fort on the Laramie; Fur-Traders and Missionaries; Rival Posts - Fort Platte and Fort John; The Coming of the First Emigrants; Last Years as a Private Trading-Post; Fort Laramie Becomes a Military Post; America on Wheels; The Great Fort Laramie Treaty Council; The Emigrant Tide; The Grattan and the Harney Massacres; From Handcart to Pony Express; The Cheyenne and the Utah Expeditions; the Civil War and the Uprising of the Plains Indians; the Fight for the Black Hills; etc. Condition: near fine; slight remnants of collector's bookplate on front endpaper
Price: $250.00
¤£¢ß¥Åø¤£¢ß¥Åø¤£¢ß¥Åø¤£¢ß¥Åø¤£¢ß¥Åø¤£¢ß¥Åø¤£¢ß¥Åø¤£¢ß¥Åø¤£¢ß¥Åø¤£¢ß¥Åø¤£¢ß¥Åø¤£¢ß¥Åø
FORT LARAMIE AND THE FORTY-NINERS
by Merrill J. Mattes
Published by Rocky Mountain Nature Association Estes Park, Colorado, 1949. Original illustrated cream wrappers; 36 pages; illustrated with half-tones. Condition: near fine.
"One of the most historic spots in the Trans-Mississippi West lies on the tongue of land formed by the junction of the Laramie and North Platte rivers, in eastern Wyoming ...."
¤£¢ß¥Åø¤£¢ß¥Åø¤£¢ß¥Åø¤£¢ß¥Åø¤£¢ß¥Åø¤£¢ß¥Åø¤£¢ß¥Åø¤£¢ß¥Åø¤£¢ß¥Åø¤£¢ß¥Åø¤£¢ß¥Åø¤£¢ß¥Åø
Mokler, Alfred James. FORT CASPAR (PLATTE BRIDGE STATION), comprising a Description of the Killing of Lieutenant Caspar W. Collins and the Massacre of Sergeant Amos J. Custard and Twenty-Four of Their Comrades, July 26, 1865. Casper , Wyoming : The Prairie Publishing Company, 1939. Original gray printed and illustrated wrappers; illustrated text, with maps; 75 pages; near fine condition. A scarce history of Fort Casper.
Price: $95.00
¤£¢ß¥Åø¤£¢ß¥Åø¤£¢ß¥Åø¤£¢ß¥Åø¤£¢ß¥Åø¤£¢ß¥Åø¤£¢ß¥Åø¤£¢ß¥Åø¤£¢ß¥Åø¤£¢ß¥Åø¤£¢ß¥Åø¤£¢ß¥Åø
Contact us or (970) 349-7079
____________________________________________________