Yes, we Accept: PAYPAL,
Venmo & SQUARE
We are always interested in purchasing, whether you have a single item or an entire collection for sale.
© 2021 Mt. Gothic Tomes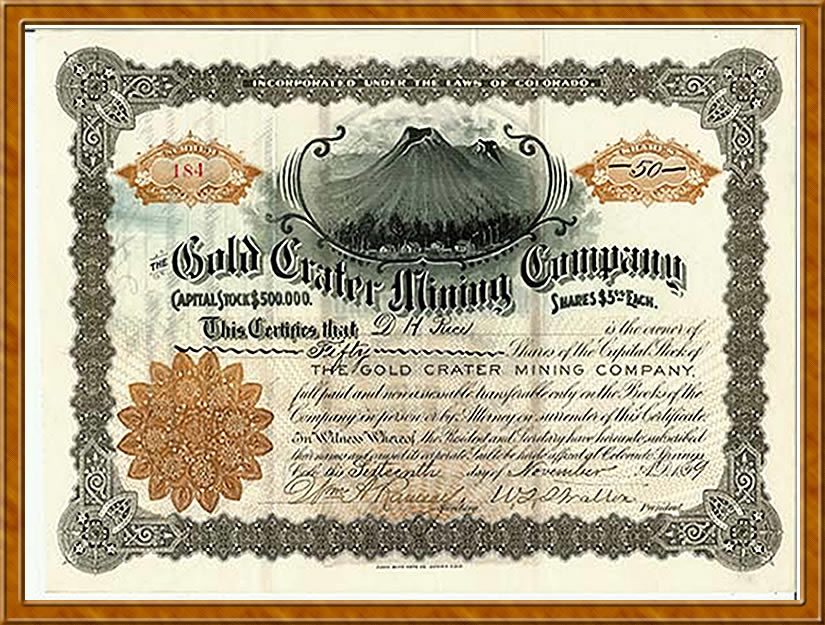 Railroad books, pamphlets, stock certificates, timetables, and more on Colorado and Western railroads.
STATEMENT OF THE CONDITION AND RESOURCES OF THE KANSAS CENTRAL RAILWAY (Narrow Gauge) from LEAVENWORTH, KANSAS to DENVER, COLORADO, 1871
Publication in original black- and gold-printed blue wrappers; 19 pages, plus fold-out map. Near fine condition. Early Colorado Territory railroad. Leavenworth: Printed at the Office of the Kansas Farmer, 1871. L. T. Smith, President. Report of United States Surveyors. Professor Mudge's Report, concerning agriculture and geology along the route of the Kansas Central. Kansas fruits. Yield of farm products per acre for the year 1869. Kansas Central route, revenue, means for construction, charter, first mortgage bond. Fold-out map: 23 inches by 12-1/2 inches; Map of the Kansas Central Railway and Its Connections; Leavenworth to Denver, Ft. Dodge, and Cheyenne.
OFFICIAL RAILWAY GUIDE OF COLORADO, May 1879
Original illustrated wrappers. Denver, Col. Published by Johnson & Clark, 1879. Near fine condition; 46 pages. Collier & Cleaveland, Printers and Lithographers, Denver. Publication contains information on the following: Stage Lines; Atchison, Topeka & Santa Fe Time Table; Black Hawk; Boulder; Boulder Valley Time Table; Colorado Central Time Table; Central City; Colorado Springs; Canon City; Denver; Denver Pacific Railroad Time Table; Distances from Denver; Denver & Rio Grande Railroad Time Table; Denver & South Park Time Table; Estes Park; Editorial; Express Companies; Fire Alarm Boxes; Golden; Georgetown; Hotel Directory; Information for Tourists and Hunters; Idaho Springs; Kansas Pacific Railroad Time Table; Manitou Springs; Post Office Bulletin; Pueblo; Street Car Time Table; Silver Cliff; Through Rates of Fares from Denver; Union Pacific Railroad Time Table; and, Veta Pass. Near fine condition. Advertisements.
ABOUT THE LINE OF THE GILPIN AND CLEAR CREEK DISTRICT RAILWAYS, December 1904
Original copper-printed tan wrappers; 29 pages, plus fold-out map of The Gilpin and Clear Creek District Railway. Published by The Hall Construction Company, Denver, Colorado. Contents includes the following: Letter - D.H. Moffat, President of D.N.W.&P. Ry.; Something About Gilpin County; Recent Mineral Production; Southern Gilpin County; Northern Gilpin County; Gilpin County Miners; Veins, Continuity Laterally; Present Mining Situation in Gilpin County; Metallurgy of Gilpin County; More Mills Needed; Existing Railroad Facilities; The Gilpin & Clear Creek District Ry. and Branches; New Mills on the Gilpin & Clear Creek District Ry.; What the G.&C.C.D. Ry. Will Do for Gilpin County; Our Engineer; Engineer's Report; Grades and Curvature; Endorsement of Prominent People; and more. Very good plus condition. Detailed map, dimensions: 18 inches by 12 inches; Clason Map Company, Denver. Also included: Prospectus of the Gilpin and Clear Creek District Railway Company, Bond Issue, dated January 1, 1906; 4-page fold-over.
VIEWS: THE DENVER, LARAMIE & NORTHWESTERN RAILWAY, circa 1910
No publisher; no date. Subtitled, "On the Roof of Nature's Coal House, Coal for a Million Homes." Original illustrated tan wrappers; tie-bound; 32 pages, plus fold-out map. Dimensions: 14-1/4 inches in width and 11 inches in height. Printed by The Smith-Brooks Co., Engravers, Printers, Denver, Colo. Fold-out map: Showing some of the industries and resources of the territory reached by the Denver, Laramie & Northwestern Railway (dimensions: 20 inches by 14 inches)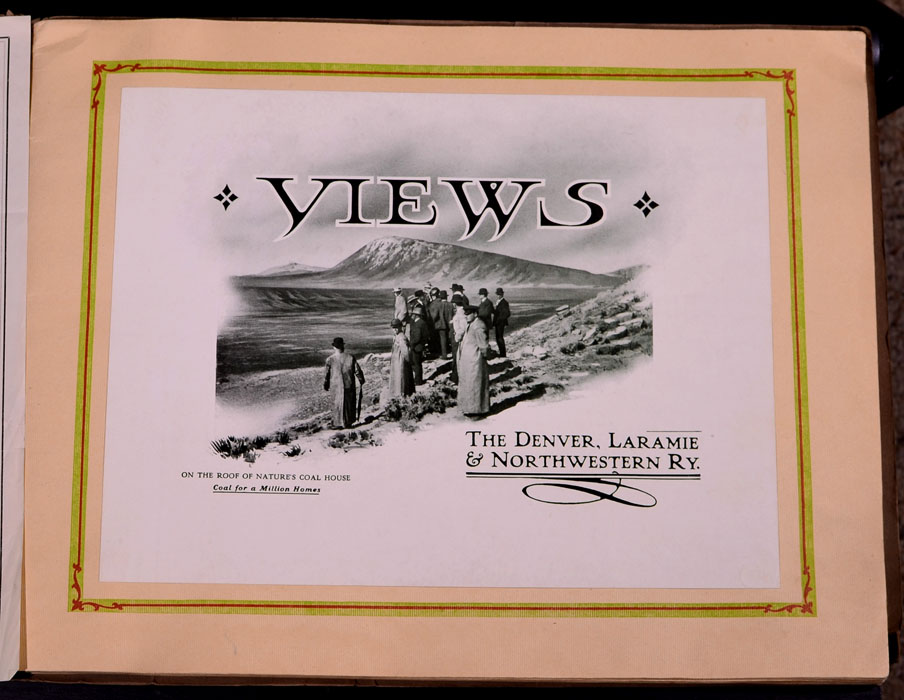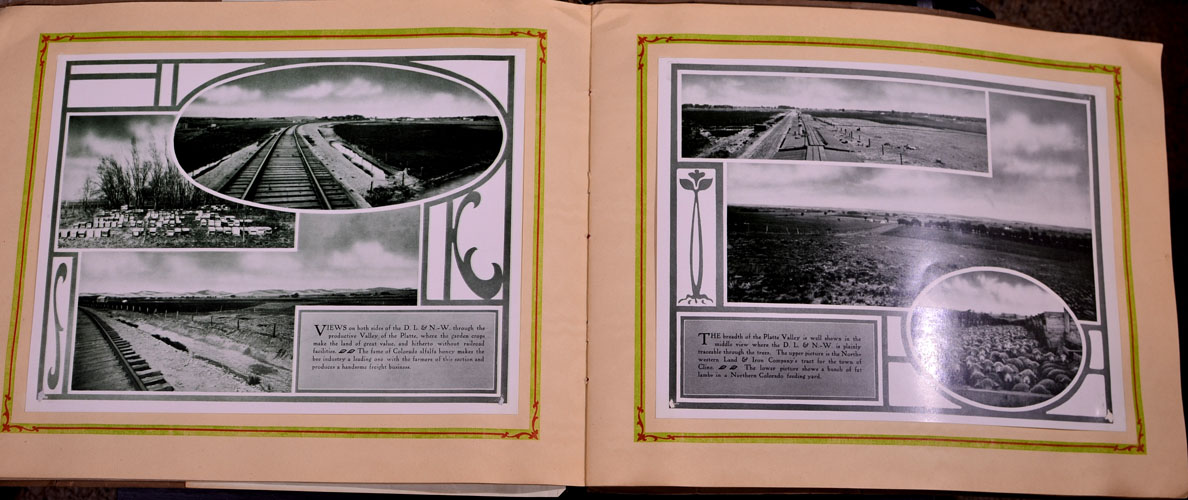 Views include: Moffat Road Station, Denver; Moffat Road freight depot; Engine No. 101; Smelter and factory district of Denver; Argo Smelter; Moffat line; agricultural scenes; Lamb-feeding pens in the Poudre Valley; Through market gardening district of South Platte Valley; Potatoe-hauling team in Milliken District; Clear Creek Bridge; Fish Creek Canon; Colorado alfalfa fields; Tract for Town of Cline, Northwestern Land & Iron Company; Irrigation canals; Irrigation canal of Lupton section; Wildcat hills; Irrigation canals in Platteville District; Denver, Laramie & Northwestern Railway at confluence of Big and Little Thompson rivers; Grading streets in Milliken; Beat-loading near Milliken; Bridges across Platte River; Residences of Platte River Valley; Street scene in Greeley, Colorado; Greeley sugar factory; New Town of Severance; New Town of Wellington, Laramie County; Laramie Valley; 100,000 herd of sheep, Laramie Plains; Street scene in Laramie, Wyoming; Aldrich's Gorge; Development in Elk Mountain coal fields; Mines in Elk Mountain District; Executive offices of the Denver, Laramie & Northwestern Railway; Map of the Terminals, Trackage and Depot Grounds of the Denver, Laramie & Northwestern Railway & Moffat Road in Denver.
Near fine condition.
OFFICIAL LOCAL TIME TABLES: DENVER & RIO GRANDE RAILROAD, Scenic Line of the World, through Colorado, Utah and New Mexico, July 1888.
Original illustrated tan wrappers; 128 pages. Engravings of local scenes; local business and hotel advertising; description of towns along the railroad route; index to stations; shipping guide; and numerous timetables.
Condition: good plus; wrappers and some pages are fragile. SOLD
DENVER AND RIO GRANDE WESTERN - WESTERN PACIFIC - "The Scenic Life of the World," The Great Salt Lake Route. Train schedules for the Denver & Rio Grande Western Railway Company, dated June - July 1925. Printed by Poole Bros., Chicago. Fold-over pamphlet, in its original illustrated covers; 54 pages. Train schedules. Map of the Denver & Rio Grande Western Railroad, Western Pacific Railroad and connections spread across pages 27 - 30. Advertisements for businesses along routes. Condition: very good; some light age signs; several professionally repaired short, closed-end tears. Pages bright and clean.
Price:
FOURTH ANNUAL REPORT
OF THE CHICAGO GREAT WESTERN RAILROAD COMPANY
for the Year ended June 30, 1913
Chicago, Illinois, 1913. Original printed green wrappers; 45 pages; 2 maps; charts and descriptive detail. Includes development and improvements of the railroad in Minnesota, Iowa, Nebraska, Missouri, Kansas, and other states. Financial statements; operating revenues; transportation expenses; and other details. Also information on the Wisconsin, Minnesota & Pacific Railroad, as well as the Mason City & Fort Dodge Railroad. Very good condition: some light fading to covers; pages clean and bright.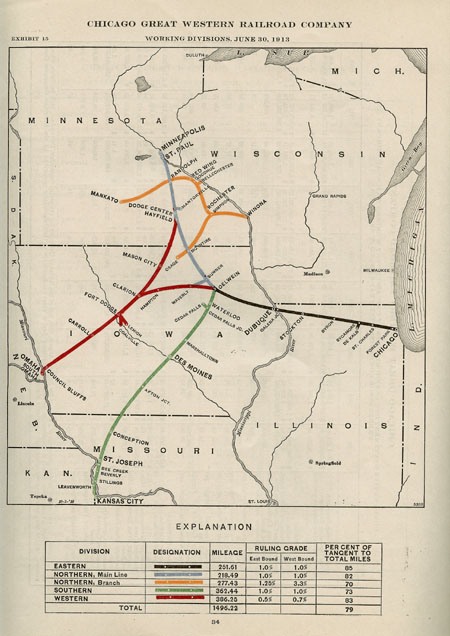 A HANDBOOK OF COLORADO, For the Convenience of Prospective Visitors of the State, Burlington Route, circa 1905, printed by Poole Bros., Chicago. Publication is in its original enamel-coated, colored wrappers; 56 pages; with fold-out map tipped onto inside of rear wrap. Numerous half-tone illustrations. Towns, stations, post offices, etc., listed along route, with details of places and illustrations. Condition: very good plus to near fine; publication is bright, clean, and fresh, with only the lightest bit of wear. PRICE: $250.00
_________________________________________________
Northern Pacific Railway
WONDERLAND, 1906, by Olin D. Wheeler. This Number describes: The Yellowstone National Park; A Trip through the Bitterroot Mountains; Columbia River and Puget Sound Region; The Queniut Indians of the Northwest Coast; and gives Some Information About Alaska. A.M. Cleland, General Passenger Agent, Northern Pacific Railway, St. Paul, Minnesota, 1906. Publication is in its original illustrated maroon wrappers; square-bound; 75 enamel-coated pages; map in rear. Numerous half-tone photographic illustrations of scenes along the route; plus, descriptive. Written by Olin D. Wheeler, who was also the author of the acclaimed, TRAIL OF LEWIS AND CLARK, published by Putnam. Condition: very good plus to near fine. Two-page map at read showing the Northern Pacific, Yellowstone Park Line, and Connections. PRICE: $125.00
REPORT TO THE STOCKHOLDERS OF THE UNION PACIFIC RAILWAY COMPANY, for the Year 1883; New York: Rufus Adams & Co., Stationers and Printers. Ex-library; original front wrap present; new endpapers and fly-leafs; 36 pages; plus, in same publication, REPORT OF THE GOVERNMENT DIRECTORS OF THE UNION PACIFIC RAILWAY COMPANY MADE TO THE SECRETARY OF THE INTERIOR, 1883; New York: Rufus Adams & Co.; 27 pages. Condition of publication: very good plus. Original foldout map in front of publication; very good plus to near fine condition. Ex-library binding has actually helped preserve this publication, rather than detract from it. One library stamp on title page, along with several short sections of tape. Price: $800.00
____________________________________________
(Gen Dodge's Paper on the Transcontinental Railways) PAPER READ BEFORE THE SOCIETY OF THE ARMY OF THE TENNESSEE AT ITS TWENTY-FIRST ANNUAL REUNION AT TOLEDO, OHIO, September 15, 1888, by Major-General Grenville M. Dodge, reprinted with comments thereon by General William T. Sherman, President of the Society. New York: Unz & Co., Printers, 1899. Publication in its original green-printed wrappers; square-bound; 50 pages; several half-tone photographs. Condition: very good; wraps have some tiny chips and show aging. Price: $200.00
_____________________________________________________
Hollenback, Frank R. THE LARAMIE PLAINS LINE: Laramie, Wyoming to Coalmont , Colorado. Denver , Colorado : Sage Books, 1960, Number 64 of 300 copies, signed by author, hardback, dust-jacketed, first limited edition. Book is in its original tan cloth binding with map printed on front cover; brown print on spine; 94 pages; illustrated; fold-out map tipped onto back fly-leaf. Book is in very fine condition; dust jacket is in fine condition, with only the faintest touch of color-lightening.
______________________________________________________
Le Pak, Gregory. RAILS TO THE ROCKIES. Littleton, Colorado: Alpine Publishing, Ltd., 1976, first edition; Number 665 of 1200 volumes, signed by author. Book in its original black cloth covers with gold print on front cover and spine; 162 pages; very fine in near fine dust jacket.
Please view our other Railroad web pages: